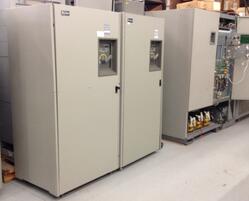 It's inevitable. Older infrastructure equipment will eventually become too costly to operate, maintain and repair. More important than the cost considerations, aging UPS and CRAC units can threaten infrastructure reliability and system availability.
For 28 years, EEC has helped countless customers determine if equipment should be upgraded or replaced. We take an objective look at the condition of infrastructure equipment, review maintenance costs and contracts, measure energy consumption, research parts availability, conduct capacity planning analysis and more to help customers make the right decision at the right time.
EEC also works with utilities such as ConEdison, NationalGrid and NSTAR to help customers take advantage of utility rebate programs that help fund the cost of new, energy-efficient initiatives. Whether you need to increase capacity or want to enhance your downsizing efforts, these incentives can shorten your payback period, improve ROI and reduce your electric bill long term!

Click here to register or call (508) 229-1404 or email info@eecnet.com.
To learn more, please join EEC's FREE web conference titled "How Utility Programs Affect Equipment Upgrade Decisions" on June 24th at 11am ET. EEC's Engineering and Construction Manager, Jim Stark, P.E. and representatives from ConEdison, NationalGrid and NSTAR will discuss these programs and share best practices to help you with your upgrade decisions.
If you experience problems with the link provided, please copy and paste the following address in your web browser: http://blog.eecnet.com/how-utility-incentive-programs-affect-equipment-upgrade-decisions/