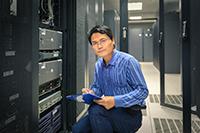 By Daniel Bodenski, PE, LEED AP, Director of Strategic Solutions
The data center has become a staple of modern society, making the technology that we use every day possible. Today, everyone from small start-up organizations to multi-billion dollar corporations utilize mission-critical facilities to house their vital data, and as the Internet of Things (IoT) and Big Data continue to proliferate, our demand for more data centers will only increase.
With growing energy costs and data center energy consumption nearly 100 times higher than that of a typical commercial building, data center owners and operators are placing a higher focus on improving energy efficiency within their facilities. Maintaining energy efficiency is critical to running a reliable, high-capacity, and cost-efficient mission-critical facility. At Electronic Environments Co. (EEC), we are dedicated to enabling our clients to develop the most efficient and profitable data centers possible, allowing for maximum uptime while minimizing capital and operational costs.
When it comes to data center energy efficiency, there are six key ways you can improve your bottom line while still ensuring total reliability. Below, we will examine these key strategies and help you answer the question, "How can my data center be more energy efficient?"
Read More