By James Stark, Principal of Engineering, EEC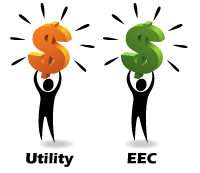 At Electronic Environments Corporation (EEC), we have spent nearly three decades providing customers with innovative, mission-critical infrastructure solutions. Through our unique, holistic approach to the data center lifecycle, including proactive preventative maintenance programs, we are intimately familiar with our customers' infrastructure. When it's time to make upgrades or replacements to improve energy efficiency, increase reliability or both, EEC has established value-added partnerships with utility companies to ensure our customers receive the highest return on investment (ROI) possible. One of these partnerships is with Con Edison. Together, we provide technical guidance and financial incentives for New York-based customers interested in upgrading equipment in the most cost-effective way possible.
EEC makes recommendations on maintaining, upgrading or replacing equipment by assessing the equipment's current condition. In addition, EEC leverages over a decade-worth of equipment performance data accumulated through our asset management data base, Infrastructure Manager, to help make these recommendations. As these recommendations can be a costly venture for any size company, our partnerships with utility companies help customers get the most out of an upgrade or repair with incentives and rebates.
Con Edison Incentive Programs
To promote energy efficiency for its customers, Con Edison has developed a program of incentives and rebates assisting companies in the purchase of upgrades to existing equipment as well as replacement equipment. According to Amelia Axtell, Energy Advisor for Lockheed Martin/Con Edison, "With the energy savings Con Edison provides to its customers, most companies are able to break even on their data center projects in less than two years; however a proactive approach is critical in order to receive the full benefit of the incentives."
Con Edison's financial incentives are designed to assist data center customers, reduce operational costs, improve overall energy efficiency and minimize carbon emissions. Data centers are energy-intensive environments by nature and require enhanced power and cooling in comparison to a typical office space. Con Edison, in partnership with NYSERDA, offers customers various financial incentives ranging from $0.05 to $0.16 per kWh per year for data center efficiency projects and up to 50% reimbursement for the cost of energy studies to assist companies develop an optimized mission-critical environment, ultimately saving money and increasing uptime.
Real-life Case Studies
To further illustrate the positive impact these incentives have on various companies, the following real-world examples achieved by Con Edison customers through utilization of its programs. A leading Internet, phone and television provider to millions of businesses and residences operated mission-critical equipment out of nearly 40 sites across New York City and the Hudson Valley. Through strategies and incentives developed by NYSERDA and Con Edison, the leading Internet, phone and television provider is estimated to save 970,000 kWh per year earning them a projected $155,000 in incentives and saving approximately $184,000 on electricity costs.
In another instance, a global digital technology company experienced a company merger, which led into a relocation into a 1,000 square-foot data center facility in New York City. Through the Data Center Efficiency Program (DCEP) offered through NYSERDA and Con Edison, the company significantly lowered its capital costs of energy-efficient investments, while simultaneously reducing energy costs by nearly $200,000 per year.
Whether it's a minor equipment enhancement or a major replacement, EEC can determine the best way to maximize your investment on your mission-critical facility. Through strategic, proactive planning with EEC, coupled by incentives and rebates of Con Edison, customers can utilize a customized and cost-effective plan to achieve their productivity goals with the highest ROI possible.
A power & cooling assessment is a great way to find opportunities for improvement. Register now, to win a free assessment valued at $10,000. To learn more about what a site assessment can reveal, visit assessments.
To learn more about Electronic Environments Corporation, visit www.eecnet.com or email info@eecnet.com.
To learn more information about Con Edison and its energy incentives, visit www.conedci.com/datacenters.aspx.