By Jim Lundrigan, Vice President of Operations, Electronic Environments Corporation
As the seasons change, it is important to make environmental adjustments in our data centers to acclimate to the drier climate produced during winter months. It is necessary for many data centers to activate the humidification section of HVAC equipment to compensate for the climate transition. After sitting idly by this summer, how sure are you that your humidification equipment is able to run at peak efficiency, ensuring reliability and effectiveness throughout the drier months?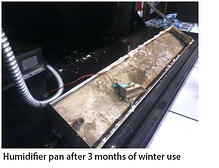 In dry climates or drier months such as the winter season, humidification systems are necessary to prevent issues such as static electricity and electrostatic discharge (ESD) that can lead to instances of blown fuses and damaged IT equipment. Worse yet, humidification systems that are not properly maintained run the risk of water leakage resulting from blocked drainage, potentially destroying equipment through preventable water damage. Over time, less obvious water vapor resulting from improperly functioning humidification equipment can slowly deteriorate the components of a cooling unit.
Proper regulation of humidification levels within IT equipment thresholds or American Society of Heating Refrigerating and Air-conditioning Engineers (ASHRAE) guidelines enable a highly reliable and effective environment to run mission critical functions. Well maintained systems reduce nuisance alarms and return calls between preventative maintenance (PM) visits, often saving on service costs. In addition, monitoring and changing set points can produce power savings. We see a trend, much like that of raising inlet air temperatures, in which customers are lowering humidification set points from 45% to 40% to 35%... to reduce energy costs.

For more than three decades, Electronic Environments Corporation (EEC) continues to provide key insights and advice to ensure data center maintenance spanning multiple types of systems, designs and environments. EEC provides its clients with pro-active, scheduling of inspections and repairs in order to prepare for and prevent imminent challenges ahead. A key item on our checklists is to ensure humidification systems are functioning at peak efficiency, modifying settings to accommodate the changing seasons. These inspections include: starting humidification system and performing diagnostics; checking condensation pump operations and cleaning as needed; affirming that set points are operating correctly; checking overloads, fuses and electrical operations to ensure proper functionality; removal and cleaning of humidifier pans and drain lines as they build up deposits; adjusting pan water levels while testing and adjusting water overflow safety devices; calibrating humidity sensors; and where applicable, maintaining water filtration systems that feed humidifiers.

EEC utilizes its extensive years of experience to customize its approach to data center maintenance while understanding individual customer preferences. Each facility and operator is unique and requires solutions to fit their needs and budgets. Examples of customized solutions range from steam canister humidifiers, which are easier to troubleshoot but maintain a higher replacement cost, to UV systems which require higher levels of maintenance, or ultrasonic systems which require a larger up-front investment but will run more efficiently and produce long-term energy savings. Year-round maintenance and inspection is critical to the efficient function of a data center; as such, EEC recognizes that a more thorough approach is necessary when entering the winter months as humidification systems will begin operating more frequently.
To learn more about humidification click here.