By Ken Rapoport, CEO of EEC, a member of the NTT Group that specializes in building and retrofitting data centers for energy efficiency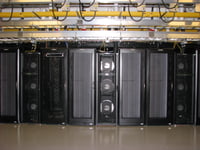 Many of our clients approach us for assistance in accelerating their energy-efficient data center journeys. Our advice to them is to consider the foundations upon which they build their data center facilities and the assets they deploy inside them, with reliability and energy efficiency top of mind. This will ensure that the data center is 'ready to perform' and can accommodate the needs of the business.
If you're building a new facility, the energy efficiencies offered by large cloud providers can be attractive. They're able to achieve impressive power usage effectiveness (PUE) levels of 1.02 or 1.01 because they can locate their facilities in areas where the cost of energy is lower. For example, in the northwest of the US, take advantage of "customized" servers that can operate at higher temperatures and higher efficiencies; and take advantage of scale and uniformity. Most businesses don't have that luxury, and as a result, rarely achieve PUE levels of less than 2.0.
EEC assists its clients to reduce their PUE levels in several ways. We ensure that their physical infrastructure is enabling them to save as much energy as possible. We achieve this by conducting assessments and deploying advanced technologies such as energy-efficient mechanical systems that take advantage of free cooling. Today, a number of powerful new technologies are available at a relatively low cost and most will deliver impressive returns within a couple of years. For example, intelligent air distribution and management systems can reduce your energy use by between 20 and 40% in just two years.
Retrofitting your legacy data center technologies can also deliver greater energy efficiencies. If you're running a low density data center – for example, one that's operating at 50 watts per square foot – you can deploy in-row cooling or direct water-cooled racks in zones to accommodate potential future zones of higher density servers.
To find out more about this topic, visit www.dimensiondata.com/energyefficientdatacentres or watch the Google Hangout.